Employee
Touchless Visitor Management System | Smart Visitor Check-In Post COVID
With businesses trying to adapt to the new and evolved ways of thriving in the current CCOVID situation, the idea of touchless visitor management systems are gaining huge popularity and is a sure-shot way to make your office premise technologically adept and secure.
The onset of the pandemic has turned up lives and businesses upside down by bringing in revolutionary changes in everybody's lifestyle. While Touchscreen was a part of the daily routine of the masses, way before the pandemic hit our lives, the concept of touchless hit a new high. From smartphones to smart homes, touchscreen played a crucial role in personalising and securing our spaces and data but the tables have upgraded and we need an upgrade too.  
Introduction to a touchless visitor management system 
For beginners, a typical visitor management software is a digital program/ software that allows registering and tracking visitors, prospects, clients and guests into a premise or a corporate site. It is based entirely on digital experiences, usually AI-enabled, which makes it a more reliable way of storing and organising visitor information and data.
Long before the pandemic emerged, companies have been using VMS but they typically required the visitors or guests to touch the screens and enter their data for verification. However, as per the current scenario, the visitor check-in solutions has gone touchless for ensuring protection and safety, especially against the spread of the virus.
Need for a Touchless Visitor Management System
Visitors make a crucial part of any organisation and they can range from any service provider to a potential client. Therefore, visitor management is considered an important task in corporate premises that should not be ignored at any cost.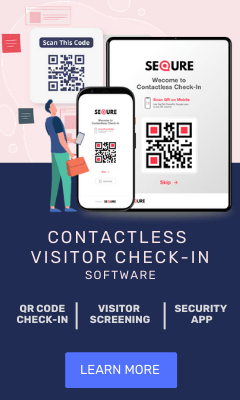 Multiple guests enter the office buildings every day, and just printing passes is not be enough to guarantee security inside the office. Having such obsolete approaches can result in unwanted breaches and such organisations tend to easily fall into the loop of crimes and threats. Office buildings, therefore, need a solid and stable touchless visitor management system in place to monitor and avert visitors easily.
As businesses reopen after covid, congested reception areas and the visitors waiting in long queues to get themselves registered at the main door is the last thing that businesses want. When you have a contactless visitor check-in solution, there is never a clump of staff at the reception area, helping them maintain social distancing norms and guides issued by the government at all times irrespective of the number of guests or visitors entering the building.
Even after the pandemic ebbs and flows, contactless visitor check-in solutions will greatly contribute towards an organisation's efficiency by automating the security of the office building and freeing the employees to focus on other important aspects than noting down the names of who and what came-by the office, making way for higher productivity.
Touchless Visitor Management System Explained
A touchless visitor management system makes use of smart technologies to safely check-in guests/ visitors to an office premise. Though various Contactless check-in solutions have different working approaches, this is how a typical touchless VMS works:
QR Code Check-In
With QR code check-in technology visitors can easily check-in using their smartphone and seamlessly gain access to the office premises.  
Face Recognition
All touchless visitor management systems come with face recognition technology wherein a camera detects the face of the visitors and saves it in the system. As soon as the visitor enters the building, the system recognises or captures information through face recognition software for a completely touchless experience.
Security App
The pandemic calls for a dedicated security app to scan/ screen every visitor prior to their entry approval. A dedicated security app enables the front office admins/ security officers to capture visitor data, seek information on travel history, capture health condition, etc to ensure all guests are screened before check-in.
Host Alerted
Alerts or alarms are in-built features in any visitor management software sending prompts on every activity of guests entering the office lobby. As soon as the visitor is done with face recognition, the host who is supposed to attend the visitor is notified or alerted through the app or system. If there is any unwanted guests or system breach, alerts for the same are also sent out immediately.
Path Finder for Guests
The visitor is not even required to wait or roam around the lobby looking for the host's office, since the software aims at the touchless experience and saving time. If the visitor has pre-registered then he/she is given directions to the concerned host's office, once inside. In case of new visitors or job candidates or prospects, the staff responsible for receiving them gets alerted in time.
E-badge Printed
The touchless experience is not limited to arrival but also persists after events or meetings have ended. Once inside, the e-badge is automatically generated containing the details of the visitor for the record.
Activity Tracked
The visitor's activity is tracked and maintained upon the check-out. This helps the organisation to keep track of the subsequent visits and provides informed insights about the various individuals connected with the business.
Benefits of Touchless Visitor Management 
Secured Workplace
Smart visitor management system in place will allow your organisation to stay extra secured and free of any unwanted experiences. This is ensured as the software holds in place all the data associated with the guest and allows the
organisations to maintain a secured workplace at all times. When you invest in a touchless visitor management system, you are not just jumping leaps in terms of technology in your office premises but also guaranteeing your staff and employees complete security at even the vaguest hours of the day.
Advanced Sign-In experience
No more prospects getting infuriated with a long and tedious check-in process at the office! With a contactless visitor check-in solution, your organisation makes a terrific first impression on the guest and saves them from the inconveniences caused as soon as they step foot in the premise. Contactless sign-in, entry with QR code and AI-powered system for quick identification and recognition of guests, face recognition and mask detection effortlessly make your organisation forward and modern.
Better Visitor Monitoring 
With the conventional visitor management techniques, businesses often faced the issue of losing visitors data and information. This not only led companies to lose crucial info but also left companies with no means to block unnecessary visits by individuals. A proper guest check-in solution allows better monitoring of the guests and ensures that all the information is intact every time it is required. 
Credible Data Recording
Remember the times when the security personnel were required to keep registers and enter the name of every single visitor along with the date and time of arrival. Well, those are not only unreliable sources of data but also tedious to maintain and take hours of productivity away. This problem never arises with a touchless visitor management system because the visitors need can quickly sign in and their data, along with their face, is entered and intact in a secured cloud that is 100% accurate.
Assess Information in Real-time
Touchless VMS offers next-level benefits to the organisation and makes the workplace highly efficient by producing data in real-time. Easy to operate dashboards help the staff to assess information, arrange tasks and get detailed real-time info about the visitor in seconds. This has helped many organisations in segregating the visitor's information and viewing records as and when required.
Take Informed Actions
Sometimes, visitor arrival can collide with important events and employees are stuck from both ends. Effective visitor management can ensure that such situations never arise. Next time you are scheduling a business event or meeting, you can check for pre-registered visitors and make informed decisions. You also get to block unwanted visitors through the software allowing you to maintain a productive guest list every single time.
Save Ample Time
Time is no less than money and anything that is saving time is an indispensable upgrade for any environment. Visitors are often heard complaining about the time wasted in the security zones of companies even after pre-informed appointments. However, when a visitor signs in through the visitor management software, the host is notified and the visitor can be directed to the particular host or an event instantly. This saves the employee's as well the guest's time which would otherwise be wasted in the security formalities at the front desk.
At Last, Create a COVID-19 Free Zone
Times are hard and just when businesses thought of re-establishing themselves, fresh Covid-19 cases erupted. But the show must go on and therefore, the organisations are adopting advanced, touchless technology that can help them stay safe and allow them to sustain in such difficult times. With proper mask detection and temperature screening, companies can ensure that their workplace is not invaded by the virus. Some VMS have higher features like displaying the visitors' travel history for a deeper level of safety in the current scenario.
Features of a Good Contactless Visitor Management
Smart touchless visitor management is the need of the hour and here are the top attributes or features to look for before you invest in this new form of technology.
Cloud Based
Before you dive into the more complicated features of VMS, the first feature to look out for is whether the software works within a cloud environment. Having visitor's data in a non-intrusive space enables the employees to keep track from anywhere at any point in time, so your office is never exposed to threats.
Pre-Registration
The contactless Visitor management system should allow the visitors pre-registration. This is especially crucial for companies who host multiple events and are active in conferences attended by huge audiences. This feature effectively reduces time wasted during screening and check-in and assists space planning, especially during the covid times.
Face Mask and Temperature Check
In case you are planning for reopening your business post-covid, touchless VMS is your saviour. Features like mask detection and temperature check upon arrival ensure that the new visitors are in good health and no visitor is breaking the guidelines allowing a covid-free premise.
Check-in with QR Code
QR codes sent via an email invite or placed at the reception desk help in segregating and managing your guests with unprecedented ease. Only visitors with a specific QR code can enter the building and swiftly diverted to the concerned employees in no time.
Quick Alerts
A good VMS comes with alarms and alerts that notify the employees and staff whenever someone enters the door. Most of the software now has a notification bar in their screens or apps wherein the hosts are notified or alerted instantly when the pre-booked visitor clears check-in. Some advanced VMS even show the visitors the directions to their hosts once they clear check-in. Similarly, the employees get alerted when an unwanted or unrecognised visitor strolls your lobby.
Smooth Integration
Modern visitor management gels with your current technologies and aligns itself for producing better results in the long run. For instance, it should have the option of combining with the Office or Outlook or other platforms already being used by the staff for better synchronisation.
Less Maintenance and Simple
No one wants to invest in a piece of technology that crashes or slows down in times of need. Choosing a reliable touchless VMS will ensure that all the crucial data about your visitors is jotted in a safe place. Also, the simpler the working of the touchless VMS, the better for your employees and staff dealing with it. A simple VMS will make the process streamlined and easy to manage by anyone in the long run.
When it comes to choosing the right touchless VMS for your organisation, you need to consider the above aspects carefully for a long-lasting investment. The other criteria to look for is better pricing, good customer care, easy installation among others.
Times are unpredictable and businesses are trying to keep pace with the changing times. It is only in everyone's betterment that companies seek contactless technology such as touchless visitor management system for better hygiene and safety from the virus whilst safe reopening of businesses. Business can only run when the employees and staff are in good health and such measures are desperately required for safeguarding their life and subsequently, saving the life of businesses in the present circumstances.