Facility Management
Integrated Workplace Management System | Smart Office Automation 
There's no denying that IWMS or Integrated Workplace Management System has been able to achieve greater importance in the present business environment that's ever-changing. Since offices and business procedures are getting altered every day, the tools & processes for churning out digital transformation in workplace environments are also changing. 
With the COVID-19 pandemic still running rampant around the world, workplaces and offices require an entirely modern approach to build on the advancements and opportunities that have already been implemented. As a result, greater workplace efficiency can be promoted. 
Moments like these are when you need the helping hand of an integrated approach in the management of such facilities so that the benefits of better services & equipment can be harnessed. The aim should be to build a productive, comfortable and efficient workspace environment so that the organization implementing these changes can obtain a competitive advantage in that specific industry. Keeping the same in mind, we'll help you learn everything there is to know about Integrated Workplace Management System.
What do you mean by Integrated Workplace Management System?
Before we define IWMS, it's essential to learn what the workplace management system is all about. Workplace management is about facilities management where the main focus is on optimizing the overall workplace environment while also supporting the people who are working in it. Workplace management forms a part of the Integrated Workplace Management System.
IWMS can be defined as a comprehensive software platform that helps in optimizing the various facilities around it for serving a greater purpose. The purpose can be related to sustainability, costs, security, wellness, productivity, or even compliance. It should be perceived that different workplaces pose different needs, which is why workplace management suites assist the enterprise to create a meaningful strategy to meet those specific requirements.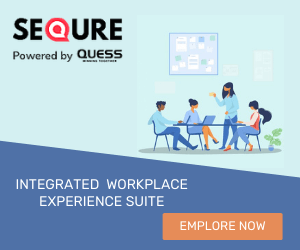 In the earlier days, leasing building, maintaining, and managing facilities were operated separately, which meant that data from each of those segments was not shared among each other. However, with the implementation of the workspace management suite, all of the aforementioned segments are integrated into a single system, so that data can be easily collected, shared, and analysed effectively. Ultimately, smart facility management solutions help in offering a top-down view of the entire workplace management strategy. 
IWMS's History
The term IWMS was first coined by Gartner in the year 2004. It was used to describe a program that was enterprise-class and could manage multiple functional areas at once. The concept that was used at that time was along the lines of a 'single platform or data repository system'. 
The five functional areas of IWMS
Lease & real estate management
It's used to successfully manage the real estate assets of the enterprise – including disposal and acquisition. The segment also involves lease accounting, tax management, and RFP (Request For Proposal) management. 
Space & facility management
It's used to massively optimize the overall use of facility space belong to an enterprise. Users will be able to expertly manage all the physical spaces inside buildings, schedule & book meeting rooms, manage the employees, etc.
It's utilized to schedule various types of preventive as well as corrective maintenance tasks, create work orders, manage inventory, machinery, and equipment of an enterprise. 
Environmental sustainability
It's used to measure the overall energy usage, detect any areas of energy wastage and also track any energy-related costs. This segment can easily integrate with building & office automation systems, so that users can centrally control multiple systems inside a facility, such as air-conditioning, ventilation & lighting. As a result, energy usage can be analysed and benchmarks can be established for the same. 
Capital project management
It's used in the planning as well as execution of building new projects as well as remodels. The segment will include the functionality for bidding, planning, financial accounting, and document management. 
Comply with policies and regulations
The role of a modern facility manager is not restricted to optimizing the facility, with evolving hybrid business models facility managers are more focused on providing an optimized workspace experience to employees, visitors, customers and other stakeholders who interact with the facility. Facility managers are constantly looking for solutions that help ease the day-to-day hassle of a hybrid workforce (work from home/ work from office).
What are the benefits of Integrated Workplace Management System?
There's no doubt that smart facility suites will be able to unlock multiple opportunities for optimization and delivering a unified workspace experience to employees. In today's world, hybrid workspace management has become a highly indispensable solution in shaping the workplace facilities of the company. 
Therefore, the following are some of the major benefits of IWMS:
Ability to compile data for all organizational assets
An organization can have multiple assets, which is why having a central database system for recording all the relevant assets in real-time will be helpful for the financial managers of the enterprise. The organization will be able to manage all the assets without having to physically visit them one by one, while also receiving regular updates on the go. Smart asset management solution designed to interact with multiple solutions help employees save time, capture 360° asset details, optimize asset usage, instantly generate support tickets for crucial assets, etc. 
Ability to reduce unnecessary expenditure and energy usage
With the help of IWMS, organizations will be able to make stronger decisions when it comes to energy usage within the enterprise and the ways through which the same can be reduced. As a result, substantial savings can be enjoyed and the organization can contribute towards environmental sustainability. 
Ability to support & empower employees
IWMS makes it easy for organizations to maintain and oversee their facilities. As a result, managing workplaces becomes easier for the employees, which will ultimately encourage them to work more diligently while also boosting their morale. Furthermore, employee productivity will also be increased because of the healthy work environment. Providing employee support has become imperative, the work from home/ office hybrid business model has pushed boundaries. Businesses around the globe are looking for a smart solution to create a unified dashboard to collect all employee support request from multiple channels and instantly engage with the workstation to get their tickets resolved at the earliest. 

Freedom and flexibility in the workplace mean a lot for millennials. Enable and empower your workforce to easily choose between work from home or work from office, interactive tools with real-time seat booking, floor maps and space usage metrics are gaining momentum among smart leaders. Flexible seat-booking software's enable employees to easily book a workstation from their smartphones.
Ability to use resources & space optimally
With IWMS, organizations will be able to create a space & resource usage strategy that fits the goals of the enterprise. Such a process can be carried out by extending the overall lifecycle of the company assets by implementing planned preventive measures, managing and employing space across all the organizational properties, and so on. 
Ability to plan strategically
IWMS helps in keeping all the important information in one single space and will be visible through an intuitive user interface. Therefore, the organization doesn't have to perform manual checks all the time or interact with multiple platforms all at once. The time that is saved can then be utilized towards creating robust strategic planning for the company on how to effectively utilize the resources. 
Ability to carry out compliance procedures
Compliance requirements can be related to the handling of hazardous materials or management of energy usage within the organization. The overall visibility provided by IWMS will help the organization to meet any compliance requirement, while also identifying and fixing any problem promptly. 
Ability to integrate with smart buildings & the internet of things (IoT)
With the help of smart buildings, workplaces can be enhanced via using IoT and the same can be then implemented to automate & manage multiple systems across the organizational facilities. 
IWMS's Significance
As workplaces tend to evolve, using the correct technology is crucial to offer the right amount of support. To match with the ongoing trends, companies are looking to add smart facility automation tools to their repertoire. Thus, the following are some of the main reasons why there's a deeper need for IWMS implementation:
Better transparency & collaboration
Most businesses out there must learn about the importance of breaking down communication barriers inside the workplace so that transparency and collaboration can be highly maintained. With the help of IWMS, communication can be vastly improved across multiple departments and thereby ensured that all of them work together for better long-term success. 
Better decision making through insightful data
There's no denying that data forms an integral part of the decision-making process. With the help of the Integrated Workplace Management System, organizations can merge as well as gather real-time data easily using a single platform, making it easy for the managers to find accurate data quickly. 
Better flexibility in workplace strategies
Flexibility is a key aspect inside a workplace, especially in the 21st century and IWMS helps in supporting the same through a robust infrastructure. 
Who uses IWMS?
IWMS is mostly used by the following set of professionals:
Facility managers

Operational and infrastructure managers

Workplace experience leaders

Human resource leaders

Agile companies and so on.
Irrespective of the company or organization's hierarchy, Integrated Workplace Management System will always play a critical as well as a constructive role in making the day to day activity of any employee easier, and more efficient. The Integrated Workspace Management Software is responsible for integrating all the various applications as well as tools to not only achieve workplace management but also help in the overall digital transformation of the organization. That's why the rightful implementation of the IWMS is highly necessary. 
The industries in which IWMS is used
The type of organizations that benefit the most:
Enterprises that are asset-heavy and are highly regulated.

Enterprises that hold numerous properties.

Enterprises that have a massive workforce. 
Some of the other industries that can be benefited:
Agriculture

Real estate

IT

Education

Manufacturing

Healthcare

Corporate facilities

Oil & gas

Telecommunications

Pharmaceuticals
How do I implement IWMS in an organization?
An IWMS can be implemented in an organization by following the below-mentioned procedures:
Before you start implementing IWMS, it's essential to have clear clarity regarding the enterprise goals that you need to achieve after implementation. There are multiple companies out there who offer the IWMS software which is why you need to match your requirements with the right solution and not the other way around. 
Carefully assess your current system
Are you trying to implement a system from the ground-up or wanting to simply upgrade your current one? If you're upgrading your system, then you'll not have much to worry about. However, if you're implementing a new system, then you need to take into account your employees as well as your core organizational procedures. Ensure that both of these aforementioned aspects benefit from the 'to be implemented' IWMS. 
Choosing the ideal IWMS software
Once you've set your requirements and know your current system, it's time to select the ideal facility management software. Moreover, capital requirements and human resources must also be estimated beforehand. 
Once you've passed the above-mentioned steps, it's time to move for a change in your organization. The enterprise workforce must be taught regarding the benefits of implementing such as system along with the changes in your business procedures. 
Continuous improvement & learning
It's time to measure the overall impact of IWMS inside your company. Once you obtain the learnings, tweaks must be implemented to ensure that a continuous improvement cycle is established. 
Factors to consider when selecting an IWMS software
It doesn't matter whether the software is good or bad if the user interface cannot provide the highest form of quality & experience. The same can be said about the IWMS that you'll be selecting for the organization. 
Ensure that the overall quality of the software is extremely high, along with the usability & presentation. Moreover, it should have an effortless data gathering & reporting system, so that it can keep up with the demands of the workplace. Lastly, the user interface should be understood by all users of the enterprise. 
It should be perceived that an entire platform migration can sometimes lead to frustration, data loss, and failure. However, by using an ideal workspace management software, there should be no drawbacks as mentioned above. The IWMS that you'll be selecting should be able to integrate with the other software platforms that are useful to the organization and create a harmonious relationship. 
Conclusion
Over the years, the Integrated Workplace Management System has evolved from something primitive to cutting-edge, sleek, and sophisticated in the 21st century. It's a system that has been empowering most of the enterprise digital transformations around the world so that employee efficiency and workplace productivity can be massively improved. 
We hope you enjoyed our in-depth guide as much as we enjoyed making it. And in case you have any additional questions to ask about the same, be sure to let us know without any hesitations. We'll assist you right away.