Asset Management
Asset Management Software | Hold All Asset Information Within Reach
Asset management is emerging as a real growth regulator in organisations. Is your company still juggling tirelessly with spreadsheets or equipped to handle this domain seriously?
Workplace management has seen a huge leap in the recent years, eliminating the manual hours of work by bringing automation to almost all aspects of businesses. Asset management is one domain that has garnered the attention of companies, owing to the ever-growing assets and finances related to them, allowing them to increase their productivity and efficiency by incorporating Asset management software in their operational hierarchy. 
What is Asset Management Software?
A comprehensive and robust system, Asset Management Software (AMS) records and keeps track of all the assets – tangible as well as intangible, associated with the company. It basically helps companies to adopt a systematic and updated approach towards managing and maintaining all their assets in one place. 
What is the location of your asset? Who is the current user of a particular asset? Is the asset being utilised to its complete potential or has it ghosted out? Crucial questions like these are bound to be asked in any organisation that is doing its job sincerely and AMS can easily fetch the answers. 
Every asset has a lifespan and goes through certain stages in its lifecycle. From the time the asset was acquired to its utilisation potential to the day it needs to be shrugged off, an asset management software keeps a close eye on every asset that an organisation owns. Whether it is machinery, tools, infrastructure or any other asset, AMS gives you the required stats, asset performance and operational details, collects data regularly and maintains it, all from a common junction that is almost entirely free of errors. 
Why not do it Manually?
An organisation's assets are not just mere items associated with it. They are of real value directly affecting the operational performance of any company. The conventional ways of monitoring assets are highly flawed and manual handling of assets comes with its own set of risks and threats like:
No real-time performance data or insight of assets

Risks of errors associated with manual recording of data

Failure to utilise assets effectively and timely

Absence of timely reports in case of high number of assets

Overly time-consuming

Exposure to potential threats and risks

Frequent presence of ghost assets
For the companies using the spreadsheets, there are pain points that make this an unreliable method and highly time-consuming. The most common problem being the instability of formulae reading that results in data that is wide off the mark. The need to manually put in data and passive search has opened doors for newer technology to sweep in and make things genuinely easier.
Therefore, it is only wise to switch to a more reliable and robust system that helps generate real-time results and genuine value out of the valuable assets. Also, it saves tons of time and mechanical labour associated with the management task.
The Benefits of Using Asset Management Software
Here is how an AMS benefits and transforms the way your organisation works:
Works Like an All-Seeing Eye 
With asset management software, companies can get the A to Z of assets, with the complete information ranging from the asset's name to its hardware data, the acquired date to the asset type and other financial details. This system acts like an all-seeing eye that constantly and diligently monitors the ins and outs of all asset-related information.
On-point Assessment of Each Asset form Anywhere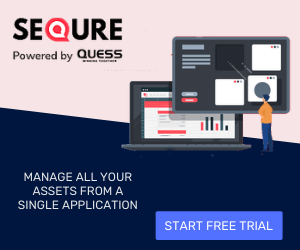 Organisations deal with a range of assets belonging to different kinds and categories and each going through a different stage in its lifecycle. The software comes with an asset inventory allowing anyone with access to know the detailed history of any asset. Automation has helped organisations double their efficiency and performance by making the multiplications, additions and subtractions of all assets, a piece of cake. 
Comes with Accuracy and Precision
While you trust your asset management team to be highly accurate and perfectionists, they are still human. An automated management system is accurate with its monitoring in every mood and every part of the day. It aptly records the data associated with the performance of all the assets and maintains precise reports on the utility as well as failures associated with assets at any given point of time, laying timely audit reports on the table without fail. 
Gives In-Depth Insights on Data
AMS provides answers to all the questions related to the performance and usage of any specific asset. It not just answers your questions vaguely but supports it with factual data and statistics collected over a period of time, which in turn, helps organisation in better asset evaluation and undertaking informed decisions.  This is highly helpful in crafting future plans and investments that are backed up with solid information.
Repairs and Takes care of the Weaklings
Is your asset's performance up to the mark? Is some asset being under-utilised? Organisations usually have to deal with under-performing assets and pinpointing such weak assets is integral to ensuring greater overall efficiency. With proper asset management software in place, organisations can swiftly identify whether or not a certain asset is meeting the expectations allowing the company to take immediate actions before deadlines. 
Awakens the Ghost Assets
For companies that have thousands of assets in their backpack, the presence of ghost assets is quite common and usually unavoidable. This results in loss of money on maintenance of irregular assets that are of no value. Employing an asset management software, such ghostly assets can be tracked in a click and discarded in another. No more spending of time and effort in unnecessary maintenance.
Allows Efficiency from Anywhere
The cherry on the top is AMS works in a cloud-based environment. This means that information associated with the assets is stored within the web and not just locally, allowing the facility managers to manage asset documentation or search from any part of the world.  The employees need not to be present in the office physically, making it possible to carry out handling of assets from anyplace, anytime. For these lucrative reasons, 93% of small businesses opt for cloud-based data storage. 
Saves Time and Money 
Money factor is a huge determinant for any organisation's growth. An AMS holds all data and real-time utility reports of assets which aids companies in deciphering the actual costs and ROI associated with the lifecycle of each asset. With all the files and documents of thousands of assets saved in one place, any individual asset can be tracked with its history in seconds, saving hours of manual work.  
Fortifies against Risks
For most brands, 41% of their important folders and files are not protected in any manner and are prone to attack very frequently. Better risk management and ability to foresee threats comes handy when the asset management process is automated. Careful observation of asset performance helps the companies in plotting the risks tied with varied assets and prepares the organisation for future spending. A secure and fortified system is therefore essential to seamless working of any brand.
How to Decide the Best Asset Management Software
The big organisations are already implementing such software deeply in the core working systems and are being benefitted well by these. However, small businesses prefer to think twice before investing in digital solutions because they are dealing with less infrastructure and equipment or other assets and feel that the staff can take care of such things manually. When you decide to bring Asset management software into your operations, then businesses need to consider these crucial parameters and make decisions aligned with the undermentioned points in order to gain the most out of this lucrative investment.
Aligns with Company's Objectives
The foremost thing before you start surfing the market is to sit with your team and get a list of your expectations from your Asset management software. Enumerate the kinds of assets that your organisation deals with how it needs to be monitored. Think of the short and the long-term goals that you wish to achieve through the new technology. The best AMS in the market may not be the best for your company due to different objectives. An organisation's use case is also a major determinant in the pricing factor and helps them achieve the contemplated output.
Operational Ease
For any technology to find a smooth way into an organisation, two terms highly matter – user-friendly and ease in operation. It is best to choose a software that has a smooth interface and doesn't scare your employees with its technical complexities. Ideally, sticking with AMS that can be handled and operated even by the non-technical staff is the best option because otherwise, the employees may find its operations too intimidating, missing out on the essential features that could have been utilised for better performance.
Integration with Organisation's Technologies
Before buying any kind of software, businesses should keep in mind whether or not they align with the current technologies. For example, if your company is using a certain OS then always go for software that is compatible with it. Consider if your asset management is supported by your existing hardware and if it allows smooth working and upgrades in the future. Also, look for the language and formats supported by the AMS so your staff can understand the system in a flick.
Hosting
For larger corporations, asset management software works in a cloud-based model because of the demand of greater accessibility and availability to all of the concerned employees. It can however be installed in a local server too. For small companies too, the cloud environment is superior because it allows working from anywhere, organisations can get newer upgrades instantly within the cloud, all new fixes are managed in the cloud and the data is secure even during on-site computer issues.
Mobile Compatibility – Asset Management App
Just like other apps, applications of asset management software exist and you should never buy one without it. Presence of such apps eliminates the dependency on laptop or office desktops. A friendly user interface compatible with multiple screens, especially the mobile, is a must to-look-for in AMS. This is crucial to have access to all the important asset-related info in real time. 
Flexibility and Scalability
Before going for the final purchase, organisations need to see how many features the AMS supports. Are the features enough for efficient asset management? Do they get modified and updated frequently according to the industry standards? Does the AMS allow you to set audit alarms? Can the features be customised? Is the AMS supporting quick issue-tracking feature? Ensuring that the existing features align with the company's requirements helps you extract more value out of the purchase.
Cost
This parameter is quite predictable and certainly carries a lot more weightage in deciding the final product. The important question to ask here is: Is the product really going to help me cut unnecessary asset-related costs in the future? For some companies, it is usually seen that they opt for low-cost AMs which usually doesn't provide much value in the long-term. More features and customisations are certainly going to cost a little over the budget but they can also help you cut down on this sector immensely.
Parting Note:
Shutting down the spreadsheets and making the shift to an asset management software may seem a bit daunting for some organisations and their employees but in hybrid ecosystem (WFH/ WFO) it is surely worth it. Choosing the right one for your company and aligning it with your systems is also a time-consuming step but it can save a lot bucks in the future. 
The risks associated with asset management are too much to foresee and too important to be taken for granted, making Asset management software a key performer in any organisation. If your company is still struggling to let go off the long spreadsheets and making a smart switch to AMS, then think again. The faster you embrace technology, the better for your organisation in the long run.